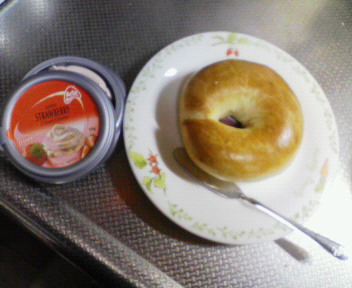 My breakfast(#^-^#)
i eat this almost everyday 4 breakfast.
i love cream cheese!!!
umm yummy!!!
im soooo tired...
wow
i had a meeting in tamachi then had an observe in chofu then had 2 go to minamimachida...
what a day.
im soooo exhausted.
BTW
2day finally my school have got
50 lovely students!!!!
its soooooooo amazing.
im soooooooooooo happy.
what can i say...?
this feeling is more than happy.
thankU 4 everything!!!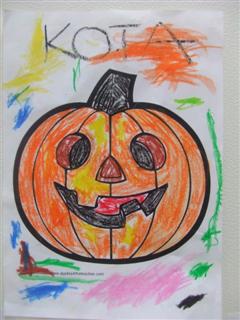 i had a class from 15:00 for 3 yrs old kids.
there was 1 really shy girl.
she is always nervous without her mom.
n 2day when we start the class.
she was like
"where is my mom??"
she was crying a lot.
that was out of cotrol.
i said that her mom was in the bath room.
but she was still crying.
unfortunately what she did was make other kids nervous.
when i said how r u 2day?
they said " im sad "
n i asked them why?
they said like this
"because mom is not here..."
that made me sad actually.
but fortunately the one little girl was happy.
she gave her a hug .
n she said to her who was crying a lot.
"its okay ur mom is in the bathroom "
that was soooo beautiful.
i was having a conversation by messenger with my lovely friend who is in canada.
she said that she wanted 2 see my blog.
so now im here 2 write my blog.
thanku 4 making me do this.
'cause i was lazy.
anyway
my school has opened which is sooooooooo cool n gr8!
'cause i was waiting 4 this time 4 a looooong time.
what i want 2 say is im soooooooo happy.
n i love my kids.
youngest student is only 6 month. oldest is 9 years old.
now i have beautiful 49 students.
being wiz kids is so amazing.
i dont know what 2 say.
they have so much energy so innocent.
n even they r kids, they r smart more than i thought.
b4 i start this job actually i was bit nervous 2 have my school.
but now im really enjoying n im here with confidence.
ライフログ
フォロー中のブログ
link
カテゴリ
以前の記事
検索
その他のジャンル
ファン
記事ランキング
ブログジャンル
画像一覧